Changing Your Name After Marriage: The Ultimate Guide
Looking to change your name, but don't know where to start? Here's a step-by-step guide to changing your last name after marriage (and one easy cheat that lets you change your name almost without having to leave your pajamas).
"I'm happy to present, for the first time, Mr. and Mrs. Smith!"
After the wedding bells have rung, and you hear your brand new family name spoken aloud to your family and friends, your heart will be filled with joy. Your new last name is more than a reminder of the love that you and your partner share; it solidifies the new family that you and your spouse have become.
However, signing your new name on the marriage license is only the beginning of a long journey toward legally changing your last name. You must get ready for miles of paperwork, confusing documents, and hours of phone calls to your banks, employers, and everywhere else your name is registered.
Or, you can let Update My Name do all of the hard work for you, and in 3 pain-free steps, your new family name would be official.
Here's the tedious work you must accomplish in order to change your name (and Update My Name's simple solution to bypass the trouble).
1. Receive your marriage certificate 
Your marriage certificate is the very first document that you'll require in order to change your last name. 
Don't get your marriage certificate confused with your marriage license. Your marriage license is what you received prior to getting married and likely signed after or during your wedding ceremony. You will receive your marriage certificate in the mail about two weeks after your wedding. This is the document that you'll need in order to change your last name.
The two-week wait might seem unbearable, especially when you're keen to share your spouse's name, but you can take that time to gather the paperwork required in order to change your last name. You'll certainly need it.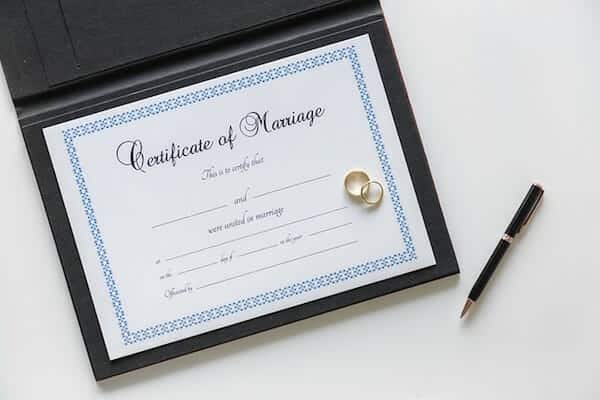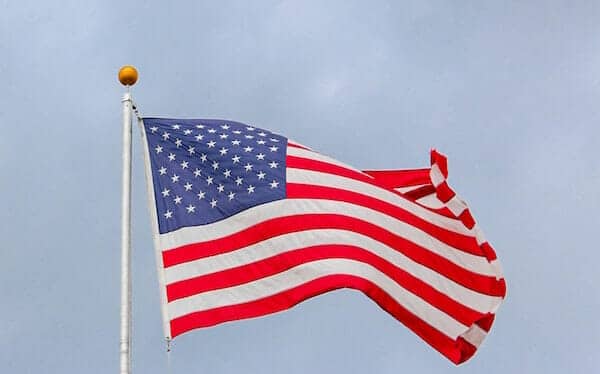 2. Change your social security card
Once you've received your marriage certificate, you'll have to update your social security card. Many states require an updated social security card in order to change your name on your driver's license, so it must be your second step.
To change your social security card, you'll need your marriage certificate, a photo ID, a social security card application, and you might need proof of citizenship. Getting a new social security card is free, but you have to apply in person or through the mail.
3. Update your driver's license
The process to update your driver's license varies from state to state, so you'll have to check with your state's DMV.
In most cases, you'll need your marriage certificate, a photo ID, your social security card, and your DMV's official application form.
You'll have to visit the DMV in order to complete this step, and a new driver's license will cost around $10 – $35.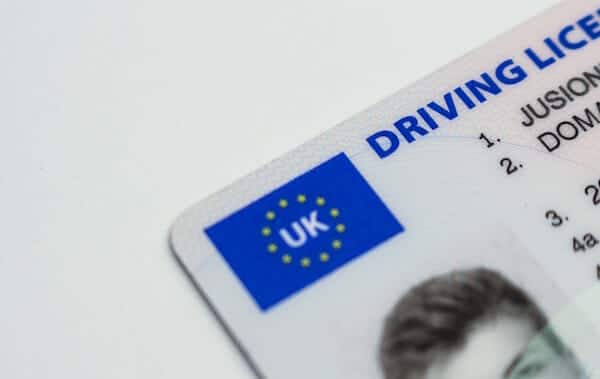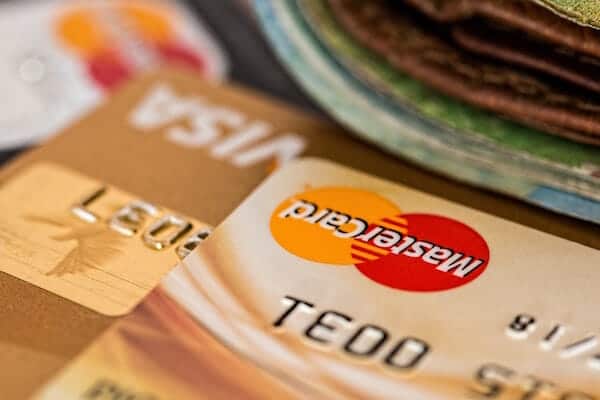 4. Update your bank accounts
If you want to continue spending money, or if you want to open a joint bank account with your new spouse, updating your bank accounts should be your next step. 
Depending on the institution, it might be as easy as changing online or over the phone, but others might require you to show proof of identification. When you change your name, don't forget to order new checks and credit cards. Some banks may charge a small fee to do this.
5. Update your name wherever you're registered
If you've ever lost a debit card, you might have experienced frustration if you forgot to update your card information for a recurring payment, and your services stopped until you provided your new payment info.
Changing your name can be similar, but if you forget to update your name, the consequences are bigger than having to enter new card information into your Netflix account.
For example, if you forget to update your passport, it could ruin your next vacation.
The most important part of this step is to try to remember all of the places where you need to change your name. To help spark your memory, here are some things that will require updating:
Voter registration

Payroll

Utility companies

Apartment lease

Business registration

Schools

IRS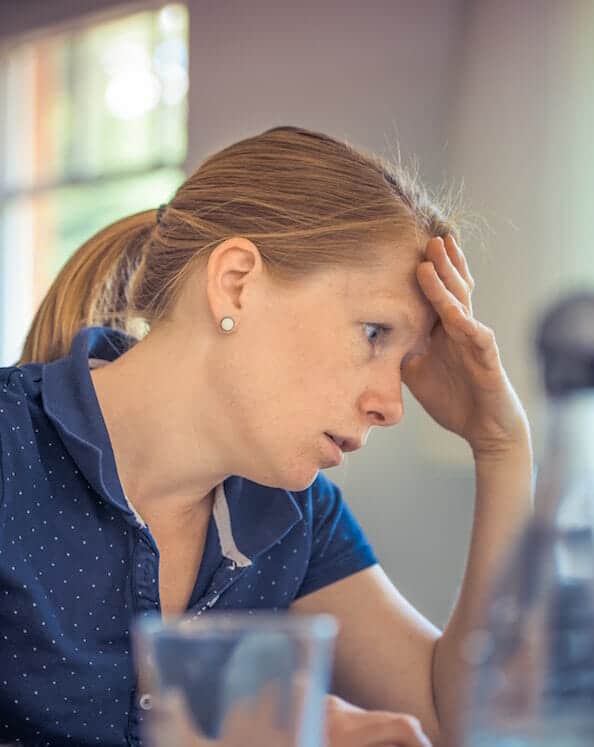 Will my last name change be rejected?
Fans of the show Friends will remember when Phoebe went to change her last name and ended up walking out of the office with the new, legal name Princess Consuela Bananahammock.
While the prospect of such a name change leaves us in giggles, the reality is that there's a lot more red tape surrounding legal name changes than you might think.
There are three ways to legally change your name: through a court order, with a marriage certificate, or through usage (recognized in some states only). Luckily, changing your name with a marriage certificate is probably the easiest process, but its allowances are limited.
When you change your name with a marriage certificate, you can only update your middle and/or last name to any combination of yours and your spouse's last names. So, sadly, you won't be able to deem yourself Princess Bananahammock.
Besides limitations on what you can change your name to, you also must be a legal resident of the state in which you wish to change your name, and you need to make sure that you file with the proper courts.
Things to consider while updating your last name
Updating your last name takes time, and over the course of the name change process, there might be a little bit of confusion as all of your organizations switch over to your new last name. To prepare for these possible difficulties, here are some things to consider.
Wait to change your name until you've returned from your international honeymoon
When you travel internationally, your plane tickets must match the name on your passport. If you bought the tickets to your honeymoon in your maiden name, then your passport needs to be in your maiden name, too.
Save yourself the hassle and wait until you've come home to change your passport.
Make sure you provide a certified copy of your marriage certificate
To change your name, you must provide a certified copy of your marriage certificate. A certified copy is a duplicate certificate that's provided by the state. When you receive your marriage certificate, you should receive a certified copy. If not, you can request one for no extra charge.
Photocopies, even if they are notarized, are not accepted. The certified copy must come from the state.
Don't forget your email addresses
If you change your personal or business email accounts to your new last name, make sure that your correspondents are updated on the change and that you have your old email address forwarded to the new one.
Keep your old IDs
As you update your last name, you should hold onto your old IDs. There could be some confusion during the transition, and it's a good idea to have identification backup in case you run into difficulties.
Changing your last name as a same-sex couple
Now that same-sex marriage is legal in the United States, same-sex couples can change their names using a marriage certificate.
However, it's important to note that, if you opt to create a brand new last name with your partner, as many couples have, the process will look a little different, and you'll likely have to petition the court for an official name change.
Facing piles of paperwork and tracking down the various institutions you need to notify of your name change can be overwhelming. What if someone handled all of that for you?
Update My Name is your personal assistant when it comes to changing your name after marriage. We don't just handle social security cards and driver's licenses. We'll help you update your credit cards, passports, Global Entry, and more. Our services take the guesswork out of changing your last name; it's as easy as signing your name and putting stamps on an envelope.
The process is completed in three steps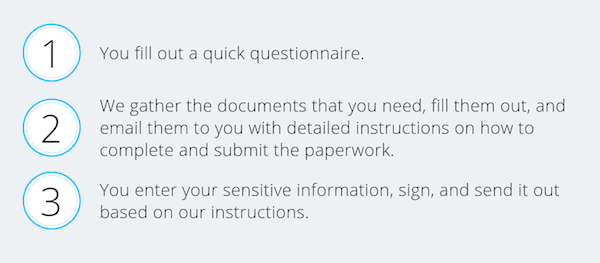 The first year of marriage will be filled with beautiful moments, new adventures, fights, make-ups, and memories that you'll treasure for the rest of your life. The last thing you want to do while exploring your new marriage is spend months on the phone and struggle through paperwork.
You could spend weeks updating your last name. Or, let us do the hard stuff while you enjoy your new life.
What are you waiting for? Let's get started!